Archived News
Jan 2018: Masters student Jaylyn Babitch and Dr. Stauffer are back out in the Gulf for our 2nd
NSF-funded
RAPID cruise studying the effects of Hurricane Harvey on plankton food webs. Follow along on our
Field Dispatches page
, on our colleague Dr. Kelly Robinson's
lab page
, and on
Twitter
!


Oct 2017: We're heading back to sea! With support from NSF RAPID, we'll be steaming west with collaborators from UL Lafayette, NC State, and Texas A&M CC to study the effects of Hurricane Harvey on GofMex plankton food webs. Follow along on our
Dispatches from the Field
webpage!
Oct 2017: New paper is out on
Noctiluca scintillans
feeding on red tide prey species. Check it out at
Applied Microbial Ecology
!
Dec 2017: Congrats to Masters student
Mrun Pathare
, who successfully defended her thesis proposal last week! Well done!!
Nov 2017: It's been a big week in the Stauffer Lab! Masters student Jaylyn Babitch successfully defended her thesis proposal. Well done, Jaylyn! And Dr. Stauffer received the
"Rising Star" award
from the UL Lafayette Office of Research for "showing great promise in research, scholarship, and mentorship."
Nov 2017: Dr. Stauffer is back from the first of our RAPID cruises. Catch up on the cruise blog on our
Field Dispatches page
. Grad students Mrun Pathare and Jaylyn Babitch are starting their week at the CERF meeting in Providence, RI. Follow along with
#CERF2017
on social media!
Aug 2017: Congrats to grad students Mrun Pathare and Jaylyn Babitch for receiving travel awards to attend CERF 2017! Well done, ladies!
July 2017: It's been a busy few weeks in the Stauffer Lab. MS student Jaylyn Babitch just returned from testing fluorometers with our ACT colleague. Check out her blog post on our
"Dispatches from the Field"
page. PhD student Andrea Jaegge is about halfway through an intensive course in
Ocean Optics
at University of Maine Darling Marine Center. Finally, MS student Mrunmayee Pathare just shipped out of Key West on the R/V Ronald Brown for the GOMECC-3 cruise. Follow along on their
cruise blog
!
​Mar 2017: M.S. student Jaylyn Babitch was one of three winners at the LA Sea Grant Coastal Connections Competition at UL Lafayette this week. All of the 3-minute talks were fantastic. Well done Jaylyn!
​Mar 2017: Dr. Stauffer is interviewed by
KATC
about the potential local effects of defunding the
NOAA Sea Grant Program
, which supports research to help maintain healthy coastal communities and ecosystems in our states (incl.
Louisiana!
)
​
Nov 2016: Well done to undergrad Amber Lauchner and grad student Andrea Jaegge for their presentations at research symposia this month!
Aug 2016: The Stauffer Lab is growing!! Welcome new
graduate students
Andrea Jaegge (PhD), Jaylyn Babitch (MS), and Mrunmayee Pathare (MS).
Aug 2016: Following successful verification testing deployments in Chesapeake Bay, more love for the
Nutrient Sensor Challenge
(and related initiatives) from the White House! And a cool
news post
on the NOAA IOOS website.
Apr 2016: Great story in
Fondriest Environmental Monitor
on the Nutrient Sensor Challenge, referencing our collaborative paper out in
JAWRA
. We are all looking forward to the "Nutrient Sensor Boom!"
Sept 2015: Ever wonder: why plankton? Here's your answer.
https://www.youtube.com/watch?v=ZEP_PJXnnNs
Powered by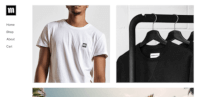 Create your own unique website with customizable templates.